News
NEW SACD (Super Audio CD) WITH BIS !!
PAPER MOON, SONGS BY MANOS HADJIDAKIS (2023)
Elena Papandreou, guitar
BIS SACD-2636
Release: 6 January 2023
Total Time: 73'09''
Works by Manos Hadjidakis arranged for guitar by Roland Dyens and Orestis Kalampalikis
and a new piece by Leo Brouwer inspired by Manos Hadjidakis
[...] Elena Papandreou's poetic playing makes you think you are hearing the words, even though there is no vocal part.
[...] The recording captures every nuance of Papandreou's playing: as sweet, one might say, as the smell of jasmine.

Ivan Moody, Gramophone magazine (May 2023)



e-classical download (studio quality):
https://www.eclassical.com/performers/papandreou-elena/paper-moon-songs-by-hadijdakis-for-guitar.html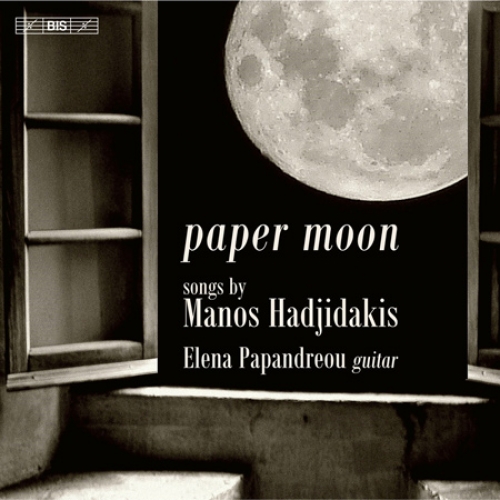 ---
Leo Brouwer, for the concert of Elena Papandreou at 2018 Guitar Foundation of America (GFA) convention:
Recently I heard, after some years, Elena Papandreou the guitar soloist, in a great recital.
She mastered not only the performance, but the art of programming!
It was a joy for me to hear excellence, in music and interpretation. Some
times professionals like her, just rest on the masterpieces repeated
exhaustively...
... Papandreou demonstrates to the public what they want to hear: a wide
variety of good music, no banality and a lot of new stuff.
Thanks a lot, Elena for your recital!
Leo Brouwer, October 2018
---
Roland Dyens for the CD "Elena Papandreou Plays Roland Dyens" (BIS-CD-1366)
It's a great pleasure and such an honor to see your own music partly recorded on a full CD devoted to….your music. On the other hand, it could be a bit scary too since composers, sometimes, might not be the greatest fans of their own works.
It's my case...
Nevertheless, thanks to Elena Papandreou and her deep artistry I did not only enjoy listening to her special tribute from Alpha to Zeta but also took advantage of the many unexpected aspects of my music that this outstanding artist has been able to bring out all along the CD, through every tiny part of the pieces selected by her. More than a composer's dream, it's a real present she did to me actually.
This is indeed what we call talent. And Papandreou is full of it.

Merci Elena.
Efkharisto poli.
Roland Dyens, April 2005
---
FRÉDÉRIC CHOPIN
3 NOCTURNES for guitar
TRANSCRIPTION: ELENA PAPANDREOU
you may order here:
http://www.panasmusic.com/catalog/product_info.php?products_id=1672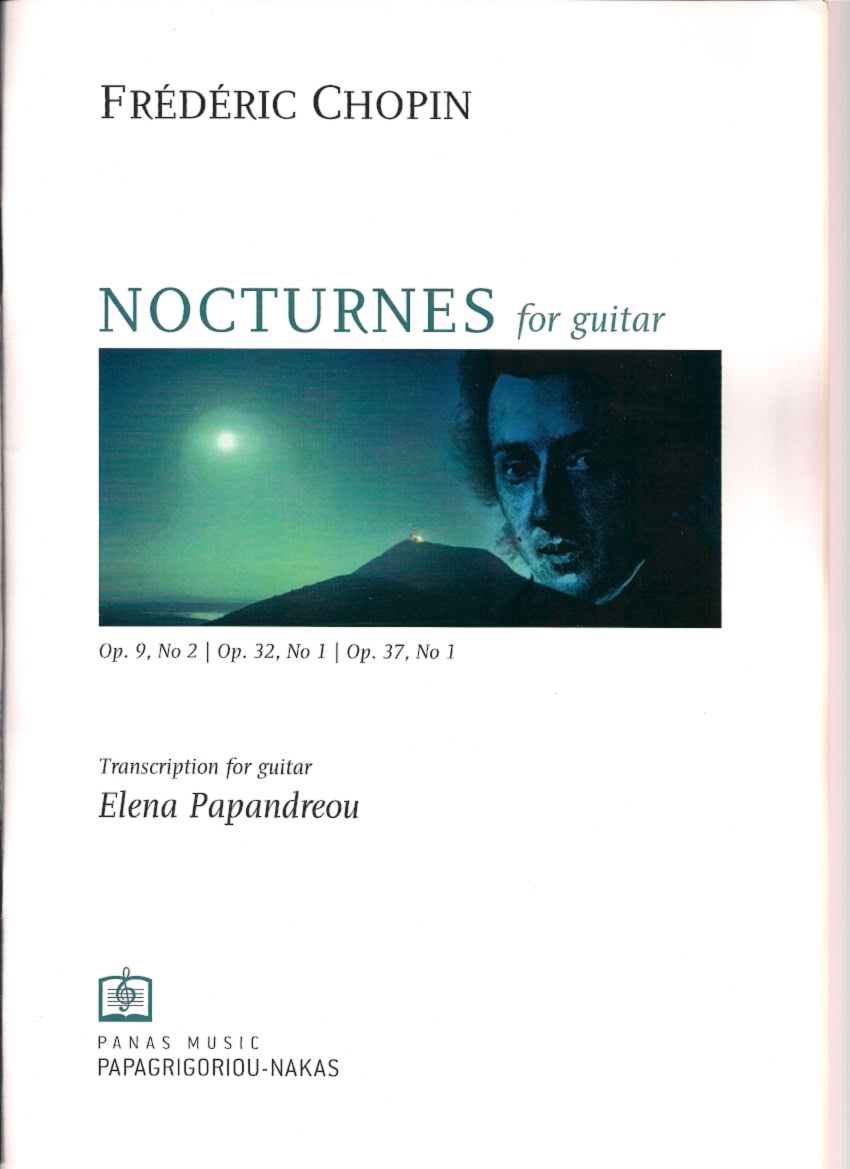 ---
"Papandreou plays magnificently...
I haven't been this excited about a new release in ages.
The music is a treasure, the performances magnificent. Get this one."

KEN KEATON
AMERICAN RECORD GUIDE
NOVEMBER/DECEMBER 2012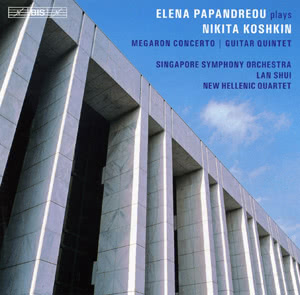 Works by the Russian composer Nikita Koshkin:
Megaron Concerto, for guitar and string orchestra
Guitar Quintet, for guitar and string quartet
L' Istesso Tempο, for cello and guitar
Polka Papandreou, for guitar and string orchestra

The works are all world première recordings and they are all (except the Guitar Quintet) dedicated to Elena Papandreou.

Singapore Symphony Orchestra, Lan Shui conductor
New Hellenic Quartet
Angelos Liakakis cello
BIS-CD-1846