Short Biography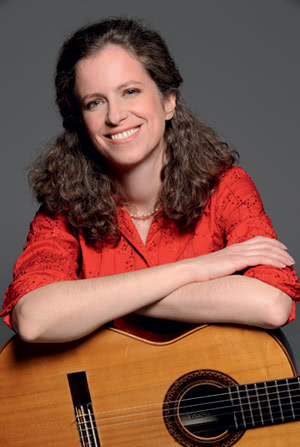 Elena Papandreou, "a poet of the guitar" according to The Washington Post, was born in Athens, Greece in 1966. She studied with Evangelos Boudounis and Oscar Ghiglia. In 1985 she received her diploma with honours from the National Conservatory of Athens. With a scholarship from the British Council she studied with Gordon Crosskey at the Royal Northern College of Music, England (Diploma in Advanced Studies in Musical Performance in 1986). She also had lessons with Alirio Diaz, Julian Bream, Leo Brouwer and Ruggero Chiesa.

She is the First Prize winner in three International Competitions, "Maria Callas" (Greece), "Gargnano" (Italy), "Alessandria" (Italy) and a laureate in the "Guitar Foundation of America" Competition where she was also awarded the "NAXOS" Prize. In 1992 the Academy of Athens awarded her the "Spyros Motsenigos" Prize. She has released 10 records (BIS, NAXOS, SIRIOS, AKTI/SONY, LYRA).

Elena Papandreou has performed in most European countries, as well as in the U.S.A., Canada, Venezuela, Puerto Rico, Brazil, Mexico, Colombia, Taiwan and Japan. She was chosen to participate in the "Rising Stars" program of the "European Concert Hall Organisation", giving concerts in some of the most prestigious halls in Europe (Vienna Musikverein, Koelner Philharmonie, Birmingham Symphony Hall and Athens Concert Hall). She has also played in the Tchaikovsky Concert Hall in Moscow, the Queen Elisabeth Hall in London and the Weill Carnegie Hall in New York.

She has played as a soloist with the State Orchestras of Athens and Thessaloniki, the Orchestra of Colours, the Camerata Orchestra, the Orchestra of Patras, (all five in Greece), the Bucharest Philharmonic, Romania, the Istanbul Chamber Orchestra, Turkey, the Orquesta Juvenil de la ESMDM in Monterrey, Mexico and the Orchestra of Alessandria, Italy.

She is an Assistant Professor in the "University of Macedonia" in Thessaloniki, Greece.